KUMORTULI'S CLAY IDOLS: A REFLECTION OF HISTORY, CULTURE AND ART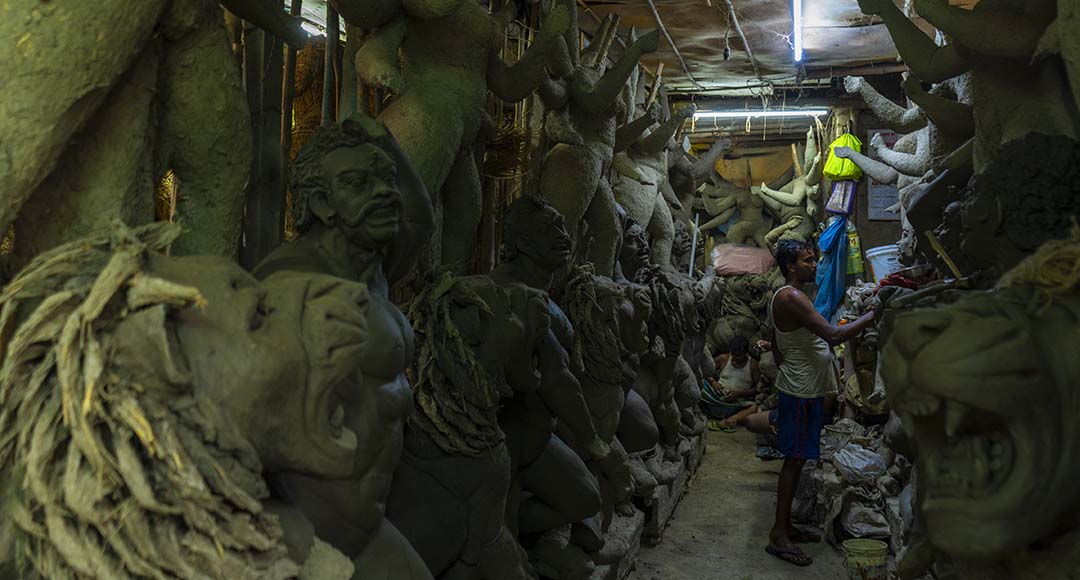 Kumortuli, located in the heart of Kolkata, is a vibrant neighborhood known for its rich history and traditions of idol-making. The name "Kumortuli" means "potter's locality," and the neighborhood was established over 200 years ago as a settlement for potters who made idols for various religious festivals.
Kumortuli Durga Puja is one of the biggest festivals celebrated in the area, where thousands of people come to witness the magnificent Kumortuli idols. The skilled Kumortuli artists, who have been passing down their craft for generations, create these beautiful clay idols using traditional sculpting techniques and modern tools. The idol-making process is fascinating to watch and visitors can even take a Kumortuli photo tour to see the artists at work. From traditional to modern idols, Kumortuli has it all, and with new artists joining the ranks, the future of Kumortuli idol-making looks bright.
Kumortuli clay idols making process

Kumortuli clay idols are known for their exquisite beauty and craftsmanship. The artists in Kumortuli use only the finest quality clay, which is sourced from the nearby river beds. The clay is then mixed with natural fibers, which makes it more pliable and durable. Skilled artists use their hands and a variety of sculpting tools to create intricate details and expressions on the idols. Each idol is unique, and the artists pour their hearts and soul into the creation of each one. Kumortuli clay idols are not just objects of art; they are spiritual symbols that represent the divine and are a source of inspiration and awe for all those who witness their beauty.
Best time to Visit Kumortuli
Travelers and photographers can visit Kumortuli throughout the year but if you can plan a day tour just before Durga Puja, you will be able to feel the actual vibe of the place and see the large goddess idols of vibrant colors. However, photographers may need to pay fees for photography during this time. If you want to connect with the artisans and want to see them closely working then please avoid this time. The rainy season is also better to avoid because the whole place becomes muddy.
History of Kumortuli
In the late 19th century, many artisans in North Kolkata were forced out of the area by the invasion of Burrabazar. However, the potters of Kumortuli were able to adapt to the changing times and survived in the area. Instead of making simple pots, they began creating images of gods and goddesses, which were highly revered in the mansions around them and later in community pujas throughout Kolkata and beyond. Over time, Kumortuli became renowned for its talented artists and their exquisite clay idols. Today, Kumortuli not only produces idols for various festivals but also exports them worldwide, sharing their rich cultural heritage with people from different parts of the globe. The resilience and adaptability of Kumortuli's artists are a testament to their passion and dedication to their craft.
Parallel to the flow of the river Ganges arts & cultures of its bank changed their routes but remained unchanged to their roots and Kumortuli isn't an exception.